Over the years, some familiar faces have joined the Call of Duty cast, and these are the best ones so far.
In video games, different worlds often meet. Think about Fortnite. With a roster that seems to never end, Darth Vader can fight Kratos or John Wick. This makes the game worth buying. But it's all a bunch of nonsense. Call of Duty is aiming to be a good character-based shooter in the same genre.
Even though the games are based on military stories and battles with special forces operators, there is a clear new trend where licensed characters, both real and made up, can join the fight. The show has now tried its hand at action epics from the 1980s, horror serial killers, and even professional soccer players.
Ghostface – Call Of Duty Black Ops: Cold War
Ghostface is a strange figure to see on the battlefield among the many horror characters who kill people over and over again. Even so, it is a little strange to see the character in his wraith-like clothes using an AR like a boss. Fans of the character know that he is an expert on sharp or blunt objects, with a preference for knives.
During the Halloween season of 2021, Ghostface was an operator skin for a short time. So, if you got the skin and want to scare some unknowing operators in Warzone, put on the costume, grab a knife, and follow your victims, just like in the movies.
Snoop Dogg – Call Of Duty: Vanguard
Snoop Dogg is the only person who will "drop it like it's hot" when it comes to owning the virtual battlefield. The hip-hop star is known for playing competitive video games, especially Call of Duty. He even made the Gangsta Gaming League, which is his own esports league. So it seems like a good idea to add Snoop to the list of operators.
In April 2022, he became an operator who could be used in both Call of Duty: Vanguard and Warzone. If you have Snoop Dogg as your virtual avatar, you better be good. Make Snoop proud.
Leatherface – Call Of Duty: Modern Warfare
In Modern Warfare from 2019, Leatherface joined Billy from Saw as a playable operator during the Halloween season. Verdansk even had a farm out in the middle of nowhere that hinted that Leatherface would be joining the team. When you found it, it was clear right away that it wasn't a normal family's home. Even the sounds of a chainsaw could be heard in the distance.
The big, crazy killer could be used as a skin for an operator. Imagine Leatherface putting down his chainsaw and using an LMG instead, which would be just as strange as Ghostface using an AR instead of his trademark knife.
Lionel Messi – Call Of Duty: Modern Warfare 2
Call of Duty stays in the spotlight because its marketing is always on point. Lionel Messi, an all-star Argentine forward soccer player (or footballer), was added to the SpecGru faction of Modern Warfare 2 as downloadable content (DLC) around the time of the 2022 World Cup. He is joined by Neymar Jr. from Brazil and Paul Pogba from France.
Adding Messi to Modern Warfare 2 and Call of Duty Mobile makes the rising star even better. Playing as him in Call of Duty is even cooler because of how well-known he is.
Rambo – Call Of Duty Black Ops: Cold War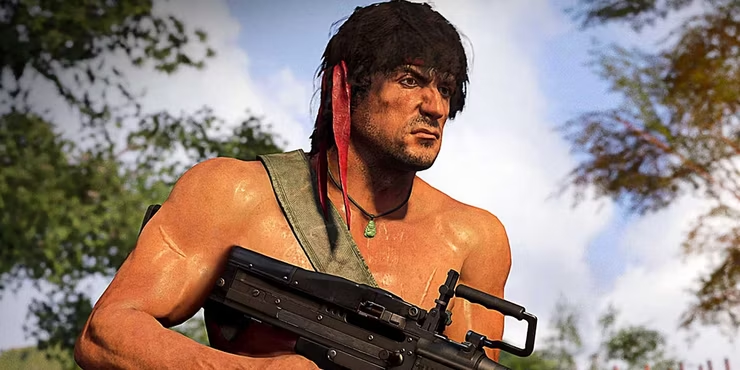 In Call of Duty: Black Ops: Cold War, the 1980s are still going strong. In fact, the story and main themes of the game are all about the height of the Cold War in the 1980s. But the developers thought it would be a good idea to throw in some popular 1980s entertainment for good measure. Rambo was one of two operators from action movies from the 1980s to join the team.
Even though Rambo has the famous face of the Italian Stallion, Stallone didn't lend his voice to the cause. Still, John Rambo is a great fit for the all-out war that breaks out in Verdansk during a rousing game of Battle Royale.
Armored Titan – Call Of Duty: Vanguard
It's hard to imagine a setting in Call of Duty that is as raw and real as the ones in Eggy Car game crossing over to an anime property. But hey, at least we got Leatherface. Over the past few years, Attack on Titan has become a very popular show, so it makes sense that two of the biggest names in the entertainment industry would meet.
Only this meeting shows up as an operator with a skin of an Armored Titan. Now, don't think that every time a player puts on the skin, a huge Titan walks around Verdansk. He is, of course, the right size for a person. But he's still a pretty sight.
The Terminator T-800 – Call Of Duty: Vanguard
In Call of Duty: Vanguard, you can play as Arnold Schwarzenegger's T-800 for the first time. This time, his goal isn't just to kill Sarah Connor or the T-1000; he wants to kill everyone.
Fans of the movies can walk around the battlefield as Arnold. But if you want something that looks even more sci-fi, use a skin that has been damaged in battle or take the skin off to see the laser-eyed endoskeleton beneath.
The Terminator T-1000 – Call Of Duty: Vanguard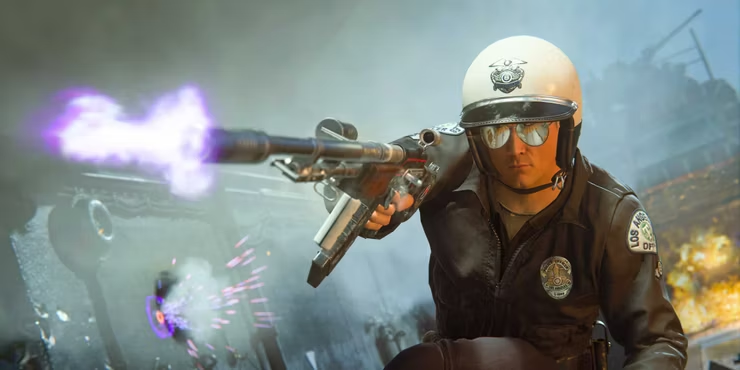 Don't worry, the bad guy from T2 is shown. Arnold's T-800 is joined by Robert Patrick's evil T-1000. The T-1000 is sure to get people's attention when they see the killing machine made of liquid metal dressed as a biker cop. But he's not nearly as hard to hurt as his movie version (thank goodness).
With both the T-800 and the T-1000 as player operators, you might be able to see a reenactment of one of the action-packed scenes from T2 where the two robots fight with guns. Most likely, it will be over much faster than any movie.
John McClane – Call Of Duty Black Ops: Cold War
Die Hard star John McClain is the second action star from the 1980s to appear in Black Ops: Cold War. Yippee Ki-yay! McClane is done throwing terrorists off of Nakatomi Plaza, like Hans Gruber. Now he can use his skills as a one-man army in Call of Duty. So, he fits right in with the rest of the team.
Some of his animations of people being killed are very beautiful and look like they came right out of the movie. Watch as he puts his hands up in the air when a gun is pointed at him, only to fool the person who wants to kill him. Happy trails, Hans.
The Shredder – Call Of Duty: Modern Warfare 2
In March 2023, the Teenage Mutant Ninja Turtles' main villain will be added to Modern Warfare 2. At first glance, it may seem like an odd addition to the team. But a closer look shows that this warrior from Japan fits with the second season of Modern Warfare, which is about Japan.
Also, the announcement and launch went well with the release of the trailer for the new TMNT movie, Mutant Mayhem. The Shredder may be an expert at fighting and martial arts, but in Call of Duty, he won't be afraid to use an RPG to take out a bunch of enemies.